Welcome to all our first years
Congratulations! Your journey to becoming an engineer starts now! Please take note of the following important information:
The R&O programme will be entirely ONLINE apart from the software installation.

Please note that online registration has been extended to 09 April 2021

If

you were accepted for a specific engineering programme and want to change to another engineering programme, please register between 8 and 26 March for the ORIGINAL programme. After 26 March you are kindly requested to make contact with the indicated first-year mentors to guide you through the process of changing from one engineering programme to another engineering programme. 
The videos of the online R&O programme of the Faculty of Engineering can be found at the bottom of this page. This part of the programme is asynchronous, which means that you do not have to follow the exact schedule printed in the R&O programme booklet. You can work through these items on your time and leisure
Registration information
Mathematics Refresher Course                 
Laptop Requirements                    
Meet your first year mentors
Classes and Timetables
How to access your campus
Click here for information on how to access your campus
It has come to our attention that the DIY system is refusing to give GREEN TOKENS to gain access to campus.
This matter was attended to by the Registrar and her team and a possible solution was created. 
The system is created to only give access to those students that already have a student card and because you are first time entrance students, you will not have a student card yet. To solve this problem and give you access to campus as soon as possible, the Registrar and her team has given permission for you to gain access to campus via manually screening you at the gates without the GREEN TOKEN. 
Please note that only students that are fully registered will have access to this manual screening. No student that is conditionally registered or not registered yet, will have access. 
Access permits are issued twice a day to all students who have fully registered up until that point. No access will be given to students without a valid Permit. The next batch permits will go out within the next hour.
Please register as soon as possible and obtain a permit, to gain access to campus and participate in the R&O Program and activities. 
Using eFundi
Software Installation Sessions
The R&O programme will be entirely online apart from the software installation.
If you were not able to enter campus on 11 and 12 March, for whatever reason, Ingenium will announce follow-up opportunities for you to collect your software USB up until 26 March 2021. You can then install the software on your own. A final opportunity will be scheduled for 26 March 2021 for you to come to campus to get assistance with your computer setup, if required.
Academic Student Association
Academic Student Associations (ASAs)  are a group of senior students from the faculty that represent you and the rest of the faculty students. At the NWU, we choose new ASAs annually.
ASAs act as the link between you and the faculty, help you with any complaints/queries that you may have, guide you to the right direction and organise events for current and prospective students, among others.
The ASA at the Faculty of Engineering is called Ingenium.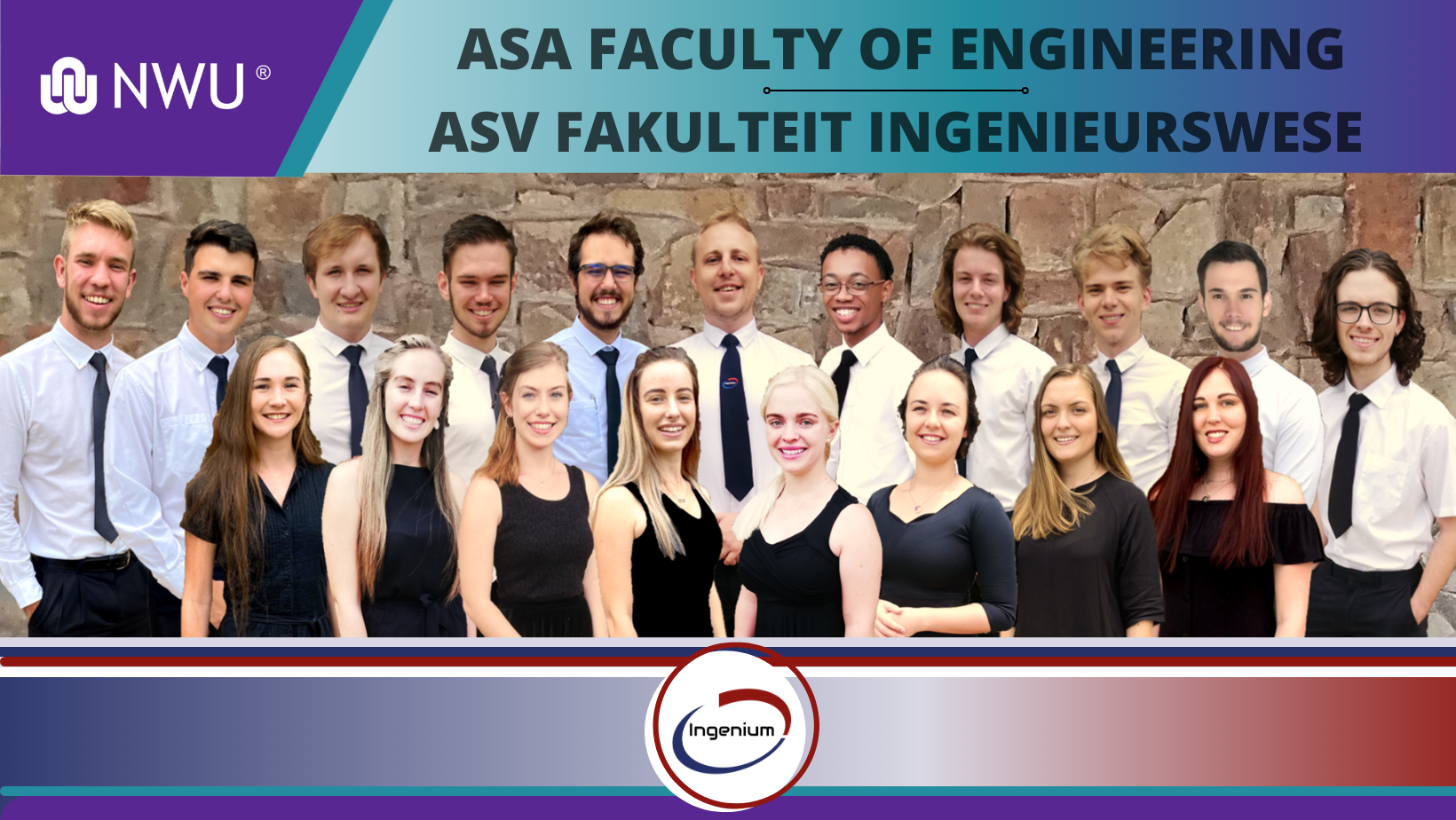 Workshop Practice safety induction and preparation
All first year engineering students are required to complete a workshop practice safety induction and preparation assessment. 
If you were not able to attend the online session, 
click here
 to access the presentation 
Click here to complete the assesment. 
Contact US
For general application enquiries:
Ms  Sonette Becker
018 299 1318
For general enquiries
Ms Keabetswe Gopane
018 299 1665                               

If you would like to join all the other first year students in your programme in a WA-group, Click here to join
---
Online R&O programme of the Faculty of Engineering
Executive Dean's Address to First Year Students
Academic Student Association (Ingenium) introduction and information
Faculty Operational Health and Safety Requirements
Introduction to ECSA Rules 
Discussion on plagiarism within the Faculty of Engineering
Faculty related WhatsApp Groups
Computer Literacy Workshop
Workshop Practice Safety Induction and Preparation
Virtual Reception Day Ceremony