BACKGROUND OF SETHI EXPLOSIONS
SETHI Explosions showcase research, development and commercial opportunities at the North-West University (NWU) to industry and stakeholders. It has been successful in creating a networking platform between academics, researchers and industry through the combination of exhibitions and high-impact productions that were integrated into an evening filled with fun and entertainment.
It started in 2013 with Engineering Explosions where the Faculty of Engineering showcased its projects and research. Faculty of Science joined Explosions in 2014 and 2015. Since 2016 the event has been expanded to showcase Science, Engineering, Technology, Health as well as Innovation, thus SETHI Explosions.
View the videos of SETHI Explosions 2016 below:
OBJECTIVES
The objectives of SETHI Explosions are therefore to:
Showcase the research and development at the NWU.
Showcase commercial achievements at the NWU.
Get scholars excited to further their studies in SETH careers.
Showcase the NWU research staff that are making a difference.
Showcase the NWU's research partners.
Create a catalytic environment to foster new business relationships between NWU and Industries.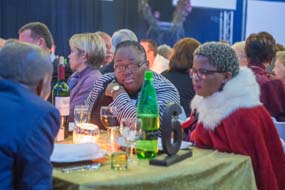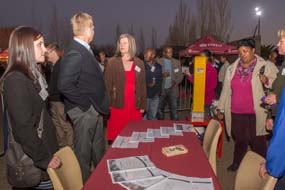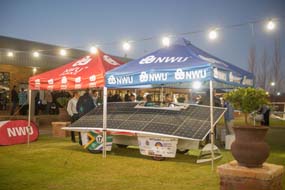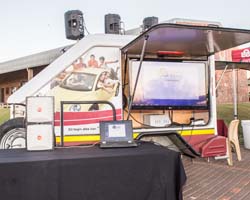 SCOPE
SETHI Explosions 2017 will be held from 21 August to 24 August 2017 at The Roots, Potchefstroom, South Africa. It will consist of the following:
SETHI Expo
SETHI Expo will be held each of the four days from 17:30 to 19:00. It will comprise of exhibitions and practical demonstrations by research and development groups on solutions, technologies, products and value adding services that were developed at the NWU.
SETHI Community day
SETHI Community day will be a new addition to SETHI Explosions. This will be held on Tuesday 22 August from 11:00 to 15:00. This will be an "open day" for the community to also visit the SETHI Expo. All the schools of Potchefstroom and surrounding towns will be invited to attend.
Launch: NWU Solar Car - Naledi
The NWU Solar Car team has been busy with the construction of the new NWU Solar Car, Naledi, that will compete in the 2017 Bridgestone World Solar Challenge. Naledi will be launched on Tuesday 22 August at the SETHI Event. Click HERE to view the programme of the event.
SETHI Gala Event
The SETHI Gala Event will be held on each evening from Monday 21 August 2017 to Thursday 24 August 2017. This will consist of a Gala Dinner mixed with entertainment and showcases of new research and innovations. During the evening the NWU will showcase 10-15 new exciting and promising research and innovation developments from a number of Faculties.
NWU Leopards Lair Competition
The NWU Leopards Lair (inspired by the Shark Tank competition) competition will showcase students projects all over the university that showed potential for entrepreneurial development. 45 entries were received and the best 12 finalists will pitch their ideas to the Leopards (panel of investors) on 23 August at the SETHI event. The finalists will exhibit their projects to industry and interested parties with the aim to get a sponsorship to demonstrate proof of concept or further development to pre-commercialisation. The aim of the NWU Leopards Lair is to provide the opportunity for students and young researchers to become part of a "Silicon Valley" culture where NWU provides a platform for students to start chasing their dreams in order to make their dreams come true.
To view the programme of the event please click HERE.
View the video below to get a sneak peak on some of the finalists business ideas: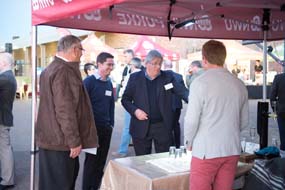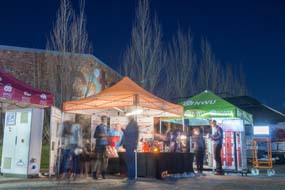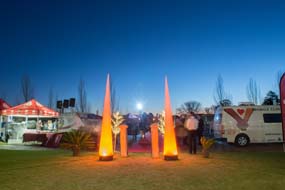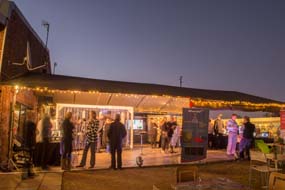 WHO ATTEND SETHI EXPLOSIONS?
Scholars – Monday 21 August will be attended by the best mathematics and science scholars from the surrounding provinces that also attend the science fair on Monday and Tuesday. These scholars will attend the Expo and also the Gala event. The second scholar evening will be attended by the teachers and best mathematics and science scholars from schools in Gauteng, North-West Province and the Free State.
Industry - Industry stakeholders that collaborate with the University are invited to attend. These are typically CEOs, CFOs, R&D directors and project managers. They usually represent a mix of different businesses that include multinationals, international companies, local companies and SMMEs.
Government Institutions – Staff from government departments, enterprises and institutions such as the Technology Innovation Agency (TIA), Industrial Development Corporation (IDC), Department of Trade and Industry (dti), Department of Science and Technology (DST), Eskom, Denel, CSIR and the National Research Foundation (NRF) attend.
Researchers – The NWU staff and researchers involved in the projects being showcased attend to share information on projects and network.
WHAT IS SHOWCASED AT SETHI EXPLOSIONS?
SETHI Explosions showcase the following:
Research and Development projects that are well advanced and nearing commercialisation.
High profile projects that are making an impact to industry, communities and the region.
Research entities.
Contact details:
Contact person: Liané van den Bergh
Email address: liane.vandenbergh@nwu.ac.za
Telephone number: 018 299 1665
PHOTO GALLERY