Mechanical engineers are involved with the development, manufacturing, management and maintenance of transport, energy conversion, manufacturing, generator, weapons, cooling and heating systems, as well as industry installations, process equipment, manufacturing machinery and mining equipment.
One BEng programme in Mechanical Engineering is offered in this school.
During their studies, students may change their programme only with the consent of the relevant school director.
Admission to the BEng degree in Mechanical Engineering requires full matriculation exemption, with an APS count of at least 31, Mathematics level 6 (70–79%) and Physical Sciences level 5 (60–69%). The language requirement is a pass at level 5 (60–69%) in the language of instruction in either the home or first additional language. The requirements apply to both NSC and IEB.
Minimum admission requirements for applicants with international curriculums: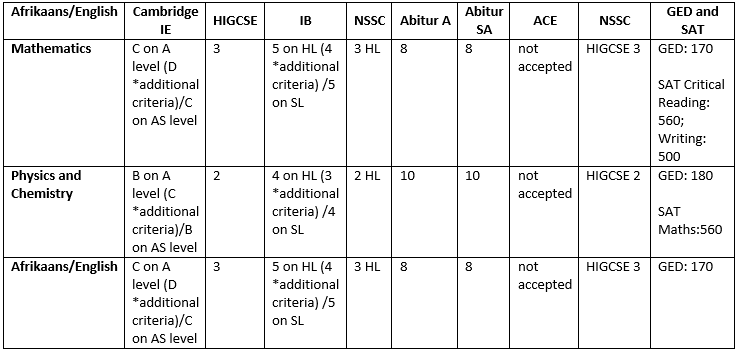 * Additional criteria: An applicant will be considered via a selection procedure that includes the O-level results and the Engineering test results
The main professional bodies associated with the school include:
Engineering Council of South Africa (ECSA).
 South African Institute of Mechanical Engineering (SAIMechE).
Other professional bodies that are associated with different academic staff members at our school.
As a mechanical engineer you will work in South Africa or abroad in the following industries:
  Manufacturing
  Aerodynamics
  Energy technology
  Power generation
  Systems maintenance
  Robotics
  Plant layout and management
  Food processing plants