2012
The North-West University made history when their debut solar car, the Batmobile, shared the overall first place in the 2012 Sasol Solar Challenge with the Tokai University from Japan. Twelve teams, including teams from South Africa, Japan, India and Wales, undertook the 5200 km journey from Pretoria, via Springbok, Cape Town, Port Elizabeth, Bloemfontein, Pietermaritzburg, Secunda, to cross the finish line in Pretoria again.
Not only did the NWU take first place in the Olympia class, but one international and two national records were broken, namely the longest daily distance travelled, and the longest overall distance travelled by an Olympia class vehicle using only sun power. Other awards included, the Safety award and the "Spirit of Africa" award.  The NWU were further joint recipients with Tokai University from Japan of the International Motorsports Federation (FIA) alternative energies cup.
Race Info
Weight of car: 309 kg
Solar panel area: 6 m2
Distance travelled: 1087 km
Time travelled:  91 hours
Average speed:  11.9 km/h
Duration of race: 11 days
Date: 18 September – 28 September
Route: Pretoria, Vryburg, Upington, Springbok, Cape Town, Oudtshoorn, Port Elizabeth, East London, Aliwal-North, Bloemfontein, Harrismith, Pietermaritzburg, Vryheid, Secunda, Pretoria.

 
Awards:                Event co-winners
1st position in the Olympia Class
Longest overall distance travelled (Olympia Class)
Longest daily distance travelled (Olympia Class)
Joint recipients: FIA Alternative Energies Cup
Safety award
"Spirit of Africa"
Team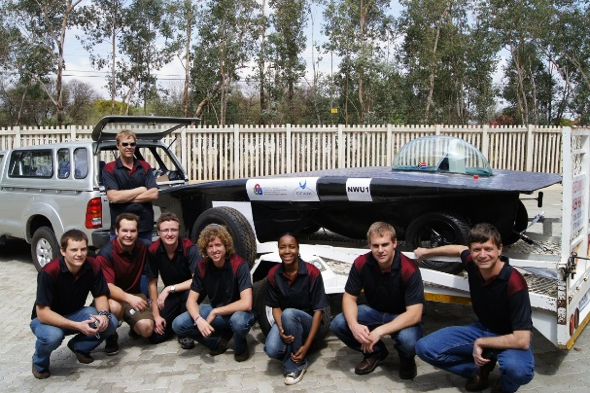 Challenge Class Results (Three wheels)
| Team | Position | Time (hours) | Distance (kilometres) | Average speed (km/h) |
| --- | --- | --- | --- | --- |
| Tokai University, Japan | 1 | 71 | 4632 | 65.2 |
| Kenjiro Shinozuka, Japan | 2 | 90 | 4632 | 52.5 |
| University of KwaZulu-Natal, South Africa | 3 | 100 | 1930 | 19.3 |
Olympia Class Results (Four wheels)
| Team | Position | Time (hours) | Distance (kilometres) | Average speed (km/h) |
| --- | --- | --- | --- | --- |
| North-West University, South Africa | 1 | 91 | 1087 | 11.9 |
| University of Johannesburg, South Africa | 2 | 105 | 847 | 8.1 |
| Tshwane University of Technology, South Africa | 3 | 100 | 409 | 4.1 |