TjopTjop is a mobile app developed to assist schools, businesses, and other institutions to easily collect and store health screening information from students, pupils, staff and clients. It saves time and effort at the screening stations, makes stored data available to the relevant people who needs to view the summarized data and act proactively when the results are out of range.
Click here to find a summary/guide of the requirements to become a TjopTjop user. You can do everything yourself by going to www.tjop-tjop.com and select Sign-up in the top right corner. The payment can be made online through PayFast, and create your password combination to activate the App.
If you are an education institution, prepare an Excel spreadsheet similar to the example provided under User Groups on the website, for students and staff at you school or institution. You will upload this sheet on the website, and also download the pdf file with user ID cards once it was generated there. The user ID cards you can distribute to learners/students/staff. It may be printed and laminated or displayed on a mobile phone, whatever works for your institution. Please note that once the cards are automatically generated and we will not be able to detect or correct any spelling or typing errors.
If you are a business or mall, you can choose whether or not to give a QR code to your staff. If so, please prepare the Excel spreadsheet with the required information as explained above for schools.  Alternatively, your staff may be screened using their barcoded IDs. Visitors to your business or shopping centre will gain access in the same way.
Click here to watch a demonstration of the functionality.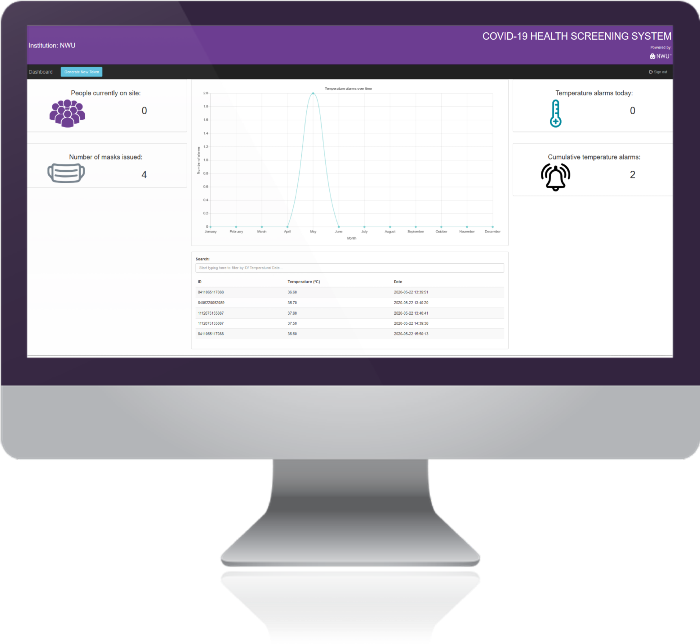 News Articles
[Accordion Collapsed]
NWU engineers walk away with international award for tackling Covid-19
An initiative from the Faculty of Engineering at the North-West University (NWU) was recently honoured with an international award from the Covid-19 Innovation Challenge of the United Nations (UN) Africa Innovation and Investment Forum 2020. Read more
NWU engineers create solution for school-based Covid-19 screening congestion
Very few schools have adequate capacity to thoroughly screen and upload the records and status of every learner who enters the school premises. However, engineers at the Faculty of Engineering of the North-West University (NWU) have once again come up with a sustainable solution to do this in a much faster and more reliable manner. Read more
NWU help skole so om kinders 'tjop-tjop' te sif
Prof. Leenta Grobler, projekleier en spesialis in gesondheidsverwante ingenieursinnovasie aan die NWU, is self die ma van drie skoolkinders. Sy het Vrydag gesê sy kan haar net indink hoe moeilik dit sal wees wanneer kinders terugkeer skool toe en almal moet in 'n lang tou staan om deur die siftingsproses op 'n klaslys te gaan. Lees meer
North West University creates app to help with screening of learners
While there is a cacophony of voices on what needs to be done, the app can alert school management when a learner's temperature is above the threshold. Read more
NWU comes up with creative solution to screen pupils for Covid-19 using cellphones
In the times in which we currently find ourselves, adequate healthcare and accompanying screening are of the utmost importance to limit the spread of the coronavirus. Read more
New app to help schools and businesses with health screening
A collaboration between Nelson Mandela and North-West universities will soon see a smartphone app rolled out to schools to digitise health screening and attendance records of pupils and provide alerts about possible coronavirus cases in real-time to health and safety representatives. Read more
NWU comes up with a solution screen, upload the records and status of every pupil who enters a school premises (Radio interview)
Engineers at the Faculty of Engineering of the North-West University (NWU) have come up with a solution to thoroughly screen, upload the records and status of every pupil who enters a school premises. The screening and data-recording kit issues every person entering with identification token and all points of entry are equipped with a recording station.
Guest: Prof. Leenta Grobler - Faculty of Engineering of the North-West. Listen
TjopTjop Motsweding Interview
This was the whole point of developing the app – we can now complete the entire screening process per learner in less than 5 seconds per person. A school can load the app to as many phones as they want as long as they have enough thermometers to pair with those phones, making it easier to screen a large number of students in parallel. Read more
[/accordion]
[KYK] Te midde van die kommer oor leerlinge se veiligheid wanneer hulle terugkeer skool toe, het die Fakulteit Ingenieurswese aan die NWU (Potch) 'n toep ontwerp wat die sifting bespoedig. Dit kan waarsku wanneer 'n leerling se temperatuur bo die perk styg.#SABCNews #SABCNuus pic.twitter.com/HCTPGOPbOH

— SABC Nuus (@sabcnuus) May 31, 2020
---
MotswedingFM radio interview